MADALINA CÉLINE/COCA: SINGER WITH A DOUBLE IDENTITY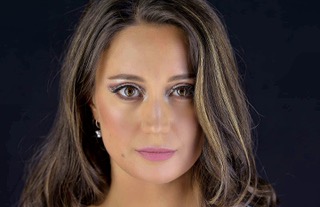 Where were you born? Were you born into a family of musicians?
I was born in Bucharest, Romania. My family is not really one of musicians, but my mother loves to sing and dance. My grandmother also loved to sing. She was good at art; she loved to draw, and to sew, as well. She was very creative. I think I inherited my talent from them.
When did you decide to become a singer?
I have been singing for almost 20 years now. It was really only just two years ago, after my participation on "The Voice of Romania" when I decided to focus myself 100% on my musical career.

 

This experience was the real deciding factor for me. I have realised my potential and passion for singing at this point.

 
You were a finalist during the "The Voice of Romania" competition in 2018. Did that give your reputation a big boost?
Yes, it did. Being a finalist in "The Voice Romania" really helped me to become better known in the Romanian music industry. I decided to completely change my life after the show. I moved back to Romania from France, where I had been living for the past 10 years. I also left my career in finance in order to establish myself in music.
Do you play any instruments?
Yes, when I was young, I used to play the piano. But I haven't continued to play since years.
What was so important in regard to studying at the "Compania de Artisti"?
"Compania de Artisti" is an excellent school of music. I learnt so many things there, and made many good friends, it felt like one big family. But, most importantly, I got to know myself better. This was a real revelation for me, and a point of personal growth.
Is Campania de Artisti considered to be a reputed institution?
Yes, it is. It has a fine reputation for those who want to pursue music. That is one of the reasons I chose it.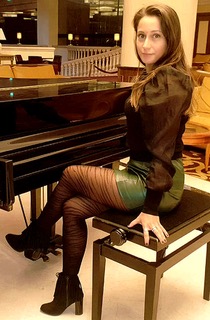 Were you ever interested in singing a classical repertoire?
I really enjoy listening to this genre of music. But, personally, I haven't yet found the occasion to sing classical music. Perhaps, one day. Who knows? I am open to it.
When was your professional début and what did you sing? Did you sing any covers?
I started singing when I was 12 years old.

 

The first song that I sang on a stage was, "My Heart Will Go On," by my idol, Céline Dion.
Do you write your own songs and/or compose music?
Actually, I do have two songs of my own. One of them was composed and written by me. The song is entitled, "Survivor." It was written during the quarantine. It represents a call for everyone to stay strong and trust that everything will be alright. That, this 'show' we live, called life, will get better, and go on.
Let's talk about France. You mentioned you lived there for 10 years. What brought you there? Was it the possibility to perform?
Yes, I lived in Paris for 10 years. I arrived there thanks to an Erasmus scholarship, which I obtained from my master's degree in finance. Afterwards, I worked as a financial analyst for several years. At this time, I was also performing once a week, as a singer. Ever since I left Paris, I have had the opportunity to come back for several performances.
What is your connection with the name, "Céline"?
I choose the name 'Céline' as a second name when I obtained my French citizenship because I really like this name. It is also a tribute to my favourite artist, Céline Dion, who inspired me the most in my music career.
What makes you unique and sets you apart from the rest?
Well, I think we all are unique and special in our own way. Personally, I put a lot of passion into all that I do. I am a perfectionist and always do my best to achieve my goals.
How many performances do you give per month?
I usually do 4 or 5 per month, but it depends on the period.
You have your own informative website. Do you a lot of reactions and responses from fans?
Indeed, I have my own website www.madalinacoca.com where my fans can find information about me and my career, and especially regarding my concerts, press articles and current news about my music activity. I am also on social media and I am so happy with the beautiful community that has been created.
One can listen to you via YouTube. Do you have an idea about the number of views on your videos?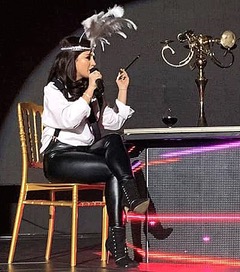 I usually get quite a lot of views for my videos, so I am happy about that and I want to thank all my listeners. I usually post my songs and covers on YouTube but also on my social media accounts, like Facebook or Instagram.
Do you have a lucky number?
Yes, my number is 12, my date of birth.
Have you ever got bad press?
No, fortunately, I haven't. And, I hope it is not going to happen (laughing).
What about your personal life?

 

Do you have time for hobbies, travel, or sports?
My main hobbies are travelling, speaking foreign languages, discovering new cultures and places. I also like swimming, going to the theatre, reading, and playing games.
Any chance for tours outside Romania and France? Do you get many invitations?
During my career, I had the opportunity to sing in several countries. Besides Romania and France, I performed in Spain, Italy, Turkey and Greece. I hope to have more international invitations in the future, of course. I love to travel, so it would be a pleasure to perform abroad.
Is there any question you've always wanted to be asked, but never been asked?
Now is the chance to ask it and give the answer.
I never thought about a question that I have wanted to be asked in particular.

 

The other day, something came to mind.

 

I was thinking about the qualities a singer should have. So, the questions I would like to be asked is, "What do you think is the most important quality a singer should possess?" I came to the conclusion that, after talent and very hard work, the most important quality for singers to possess is the capacity to offer a piece of yourself to others through my music, without asking for something in return. Reaching people's hearts and souls through music is the greatest success a singer can have.