FLORA GEORGIEVA: SINGING HARPIST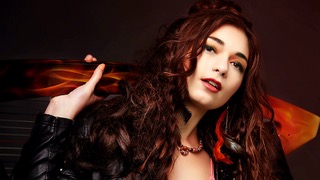 Your real first name is Tsvetelina, did you change it to Flora when you came to W. Europe?
No actually. I moved to China in my late teens for my first job as an artist. I made quite a few friends from Spain. They could never pronounce my real name properly so I translated it to them. Tsvetelina is a Bulgarian name which means "Flower". In Spanish is Flor. So everybody started calling me Flora and then later on I added "lyn" in the end for my stage name – Flòralyn!
Were you born in Sofia in a family of musicians?
I was born in a small town close to Sofia. Both my parents are musicians. My mum is a classical pianist and my dad is a hard rock drummer from an 80s band called Silluette. Although they are very different, they both enjoy listening to ABBA and BeeGees
When did you decide to start a musical study?
I was 9 when my mother started a singing academy in our town. The academy had about 20 pop vocalists between the age of 4 and 25. I was so excited about the whole thing that I learned every each song that was learned at the academy including the other vocalists' individual material. I guess they didn't like me for that because I seemed to do better than them. Then I won a couple of awards for singing and I got an offer to study in the National School of Music in Sofia.
Were you stimulated by your family?

Not at first. They didn't want me to become an artist because they knew that the path can be quite taught and challenging sometimes. However, that is exactly what I like about it now! After my first stage appearance in town when I sang "Let's get loud" in front of 15K people I guess I changed their minds. They have fully supported me ever since. When I started studying in the city they moved as well so they can support me along the way and ensure I take the right decisions.
Ever considered another instrument than the harp? Or did you start with piano?

I started piano when I was 4 but I found it very boring and I stopped. I guess that's why I chose the harp, I thought it was different. Now when I lay my hands down on the piano it feels amazing and I use it a lot for producing my tracks. I like the cello and the saxophone though. I think they're very attractive instruments that I'd love to learn if I have more time.
Did and do you also play classical music?

Yes, I played classical music for 8 years. I still do sometimes in my free time. I love the Romantism period in the music history. There are some amazing pieces for harp that were written in this period. A lot of them are by female composers too – Rennie for instance is my favourite! There are a lot of piano pieces out there transcribed for harp but the ones composed specially for the instrument are irreplaceable, authentic and absolutely breathtaking to me. Classical harp music is very unusual and I love that about it.
Were you always only playing solo or have you also been member of an ensemble?
Only at school. I was a harpist at the Youth Balkan Symphony when I was 13. The Orchestra used to be called Pioneer Youth Orchestra. However, I feel much stronger when I am solo and the audience seems to love it as well.
When and why did you decide to go to England?
I moved to England in 2016. After having a great year of touring and collaborating with various Bulgarian artists I thought it was time for me to isolate and discover myself as an artist. I moved to Cornwall with the excuse to study Music Business however my intention was to become a better version of myself and to become an international pop singer which is what I always wanted. I have always followed my dreams and I don't compromise with my life.
I love the UK and I love my friends here, they are family and feel them very close to me. It feels like it's meant to be. I went through very low moments whilst living here involving some very heavy break ups, depression and anxiety. I didn't want to admit that I had a mental issues back then and I was very afraid to talk about it. I've always put this mask of an extremely strong person and I just pick it up but I learned that this is isn't real. England thought me that it is okay to be vulnerable and wrong sometimes. This made me a

 

However, I wrote a lot of music at hose periods and now as I've got myself back up again, I am ready to help others with my music.

 
I believe that if we don't follow them we deny the purpose of our existence. I want to inspire people with my story and help them truly believe in themselves no matter where where they are from what is their background. We all have dreams. The question is, do we do something to make them happen or we just let them go and never do anything about them?
What are your ideals and dreams?
I believe that people should follow their dreams and stand up for themselves. I am a huge supporter of female empowerment because even in the music industry there is still an issue in regard to this matter. Only 17% of the Charting pop songs are by Female artists. I think this needs to change! I dream for a world where people follow their dreams and live happy. I feel that John Lennon's song "Image" describes exactly what I hope the world will become one day. It may be a bit idealistic but it is possible!
So you're playing an electric harp?
Yes. It is very easy to travel with it and it looks absolutely amazing. I carry it on my back everywhere.. it looks a bit like a super rocket without an engine!
Are you inspired by Bulgarian folk music?
Maybe…I guess so. Deep down somewhere there is this part of me. I love Bulgarian folklore. I have written one song which was inspired by it. You'll hear it one day in my next album. I have pre-written material for at least 2 albums already.
Do you write your own lyrics?
Yes I do, however I like to collaborate as well. It is lots of fun writing in the studio with other creatives. There are some amazing things that come out of it.
What makes your live performances unique?
I like my performances to be an experience that takes the audience on a journey they've never experienced before. Also I love talking to my audience a lot! I've had people telling me that I could make a great comedian too haha! Although all stories I tell them between my songs are real stories, I guess that's what makes it special. It's not just the harp, my band or my dancing. It's the combination of everything that creates this magic and helps everybody to feel closer to each other. I like to make the audience feel that I am talking and singing to each one of them individually but at ones. It sounds crazy but it's possible and that's what makes it the best feeling ever.
One can look at and listen to you via YouTube, Any idea how many hits you have?
Sure, anybody can find me on Youtube. In fact, they can find me pretty much everywhere when they search for Floralyn
.
My debut 'Enough of You" is my current hit but there will be a lot more very soon.
You are the founder/owner of Tsvetimusic LTD. Why was the company established?
I established the company to manage my music career. Even if I sign with a label, I would love to have a company myself and license my music through an established record company. I respect labels and their hard work and I wish to get signed by the right company for my music.
Tell us more about Flòralyn.
She is sensitive but strong, sweet but passionate, she is a feminist but she loves to be treated as a lady. She is everything you want her to be. She can make your dreams a reality!
What are you lecturing at ACM?
I am not lecturing there anymore. Although I used to lecture the students in the vocal department. I was educating them on music theory. A lot of singers tend to neglect music theory and I took that as a mission to change this and explain the importance of it and advantages they can have from knowing it. Before all, it's the language of music! What musician are you if you don't know how to read and write it?
I was surprised to see that you worked as a harpist at The Venetian in Macao. How did it come to that and how long did you stay?
Well the story is funny. I was begin found by an agent on Facebook and he offered me the job. They said they are really impressed with me and want me to send them an official application so I can get the job. I didn't want it at first as I was offered the job three times and I refused it. In the end I accepted it because I needed to save of for a harp and music equipment before I move to England so I took the opportunity. That was the first time ever flew on an airplane – 13 hours flight! Now it doesn't feel long at all and every other flight I do feels like getting a train from London to Birmingahm!
You also are founder and sound director of Rooftop Sessions in Falmouth/. Tell us more about it.
I lived in a very nice place in the center of Falmouth which had a rooftop terrace. When I first viewed the place I thought it will be a great space for filming music videos. I concentrated on finding unique acts. The University in Falmouth tended to have some popular acts which I didn't necessarily fancy listening to. Therefore I created a platform where only certain acts which I found incredible would come record on my rooftop. We have had some great times there!
You never seem to have been in Holland. Any plans to come here too?
I do. I just never had the opportunity. As soon as there is one I will make sure to come and visit. I have heard only nice things about Holland especially when it comes to the jazz and electronic music scene!
Naturally you have your own website. Is it visited well? Do you get many reactions of fans?
Yes I do. I receive some emails from fans now and it's great. Though, most of them of them like to contact me on Instagram. I am quite active there.
Which number brought you the biggest success?
'Enough of You' so far and my interpretation of Wicked games by Chris Isaac. We will see which one will be picked in the near future.
Did you ever get a bad press?
No, or at least not that I know off.... but I guess if I had bad press it would've made a lot more noise than the good press and I would have definitely known if there was haha!
When will it be possible to listen to your first CD?
As soon as it's out. I am building up to it with singles at the moment until we have the resources to release an EP or an album. I am very excited about that it's coming!
What's your favourite food?
I love Italian and Japaneese cuisine. I am very good in making sushi!
What are your hobbies outside of music?
I am a huge freak when it comes to health and well-being. I guess this is because I have a lot of doctors in my family on my mum's side. I love dancing and I am truly convinced that if I wasn't a singer, I would've definitely become a dancer. I also enjoy yoga, psychology and reading. I like reading books about the brain. I do suffer from anxiety sometimes and if I start down I analyze why I feel in this way and what causes it. I think our brain is the most fascinating thing. I love studying and discovering more about life and what is happening inside of us. I guess I could've become a scientist as well if it wasn't my great love for music. Although music affects the brain on a very deep level.... but this is a theme for another time.