FLUTIST ANDREA FISHER: A GLOBALIZED MULTITALENTED CAREER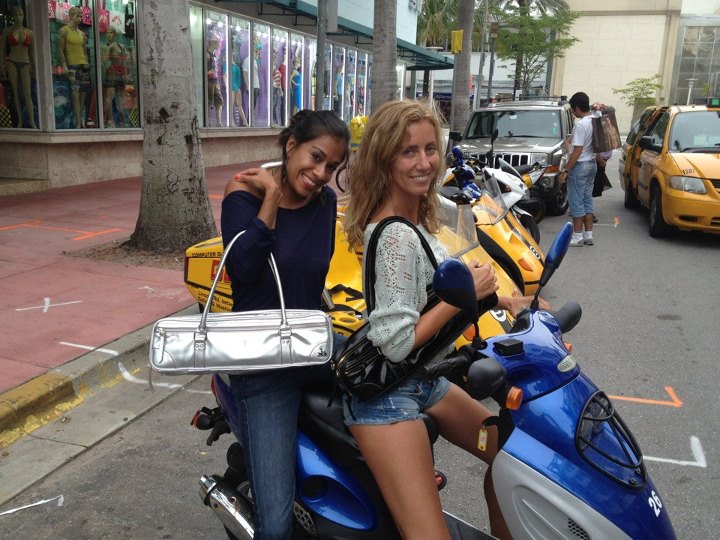 Is it an advantage to be the typical product of American multicultural and multiracial society that you as a multitalented musician found you way seemingly so easy in several styles and genres because for you there is no division between high and low art with totally different backgrounds? 
Sure, because in the States most people don't make much difference between 'high' and 'low' art; one is daily confronted with different cultures living peacefully together and most of its find that it improves our lives. Now, a bit later, surely Europe is confronted with the same kind of development. 
Why became the flute your favorite instrument and not the violin or the cello that have greater expressive possibilities?
I was always very drawn to the sound of the flute.  I don't think violin or cello have more possibilities for expression, it all depends how you play the instrument and interpret the music.  I actually transcribe a lot of violin music for flute, most recently Sarasate's  Zigeunerweisen, which I performed in Tokyo.
At what age did you start your classical flute study at Juilliard with Carol Wincenc and having a masterclass with James Galway (?). And why New York? Was that the musical Mekka for a Pennsylvanian girl?  
I started playing flute around age 8 (started piano at 3), studied with Jeffrey Khaner intensely throughout high school to prepare me for Juilliard.  I had to learn 1 piece and 4 new études every week in addition to Taffanel and Gaubert exercises.  Carol was a great teacher and inspiration; she always encouraged me to be unique in my performances.  
You mention Paul Taffanel and Philippe Gaubert who laid the basis of the French flute school and who produced important study material. They were followed by famous flutists like Marcel Moyse, Jean-Pierre Rampal, Patrick Gallois, Maxence Larrieu and the Swiss Aurèle Nicolet. What were  the characteristic qualities of this school? Is there anything left of it or is it globalisation, sameness everywhere?
If one listens carefully enough you can still hear differences, but I agree the kind of musical cross-pollination that goes on for most instruments has its influence too on flute playing and flutesound. It makes flutist easier adaptable in different parts of the world; an Irish flutist like James Galway easily in the Berlin Philharmonic and the Swiss Emmanuel Pahud simply took his place after he left.
Do you have any favorite flutist, any musical idol?
I've always been inspired by my teachers the most, but Also Julius Baker who played in the Cleveland orchestra and served as first flutist in the New York Philharmonic for 18 years (1965-1983).  I always loved his playing and teaching, I won his master class competition, too! And I still practice Taffanel and Gaubert everyday!
Did you ever play a recorder or show a real interest in the traverso too?   
I have played recorder before but just for fun.  I like to play a lot of baroque music on my transverse flute, especially Bach Sonatas!
You also are known as a pianist, organist and keyboard. How good are you at that? Playing mostly solo or mostly as an accompanist or in groups?  
I'd say I'm almost as good on piano as I am on flute, musically speaking.  I'm definitely not a concert pianist, but I've done a lot of accompanying in churches, musical theatre, and chamber music.  When I do hiphop and pop sessions, I usually start with laying down keyboard parts.  Since I have perfect pitch, I come up with ideas very fast!
You developed an interest in many music forms, totally different from the usual classical and contemporary repertoire in classical music. Do you consider that as a typical American (New York) world-open attitude?  
I don't think it's a typical American attitude.  Many flutists and "classical" musicians in the USA go the traditional route.  I decided after graduating that I wanted to pursue my own path, and I've always listened to other forms of music, such as world, house, and hippo.
Do you still have time to play the usual classical standard flute repertoire?  
Of course!  I still do "traditional" classical recitals. I recently performed at Yamano Music Flute Salon "Flute World" flute fair where I performed standards from the classical repertoire like the Bach Partita and the Fauré Sicilliene.
Internet mentions your appearances with orchestra, as soloist, in sessions, avant-garde music, in the jazz, improvisation, session and even the early music world. Which genre is closest to you heart?  
I love playing popular music the most because I think it's cool to hear a traditional instrument like the flute in music that everyone listens to.  But I love performing my own solo shows.  When I perform solo, I like the shows to be as creative as possible, incorporating different elements such as live art, choreography, collaborating with all kinds of musicians.
Out came cross-over repertoire in the broadest sense, working together with 50 cent in hiphop, working together in jazz with Herbie Hancock and Jethro Tull. Tell us more about those and other 'excursions'.  
The biggest gig I did was with neo-soul singer John Legend.  I was featured on his second album, and wrote the flute solo.  I got to perform it on a few of his tour stops as well as his live DVD.  Playing with Ian Anderson was such an honor since he's such a flute legend.  I'd love to play with him again.  He's an amazing musician and really nice person!
What about realy playing that contrabass flute? Is there worthwhile repertoire for the instrument?   
I don't play contrabass flute…only at flute fairs!  Haha
But there is at least special repertoire for contrabass flute from Shapiro, McGowan, Offermans, Dick, Seelig and Steinke; among the players of the instrument are apart from Neil MvGowan Madeleine Bischot, Pierre-Yves Artaud, Matthias Ziegler, Stefan Keller, Peter Sheridan and Vinny Golia. Dutch flute builder Jelle Hogenhuis even constructed one of PVC pipe instead of the costlier metal. So here new explorations wait for you.
How was your cooperation with DJ's and working in night clubs?  
I often play at the "French Tuesdays" events throughout the world, in Tokyo, LA, and NYC.  I like playing with DJ's because I like to watch everybody dancing to my improvisation.  I never have a specific set I play with DJ's, I always improvise.
A next step was a cross-over to Japanese flutes. Tell more about it.  
I studied shakuhachi flute with master James Nyoraku Schlefer in Brooklyn while I was at Juilliard.  I love traditional Japanese music and when I went to Japan, I bought a shinbone (festival flute) and taught myself.  The shakuhachi is a very difficult instrument to master, as it requires a lot of air!
What about your tours? In the U.S. they are logic, but what was your interest in Japan and Japanese instruments/music?  
I started coming to Japan as part of the Pacific Music Festival orchestra in the summers while I was at Juilliard.  We played under great conductors like Charles Dutoit and Michael Tilson Thomas.  I became fascinated with the culture of Japan and wanted to return immediately.  
When are you considering to conquer Europe in a broader sense (and perhaps the Low countries especially)?  
I'd love to start playing more in Europe.  I might have some events in London, so I'd probably start there.
So now you are settled as a well-known (famous?) instrumentalist, but you also became a businesswoman as a designer by introducing your Scooter Fluter luxurious flute bags. How did that commercial instinct come about?  
The bags came about because I wanted a fashionable flute bag for myself to carry.  I had a fashion designer friend make a sample, which is our current metallic silver.  Then, at flute events, flutists were asking me where I got my bag and that they'd like one.  That's how the business idea started.  It was a lot of trial and error at first to get sample sizing correct and a good manufacturer.
Did you ever consider working together with other classical trained string players in groups with electric strings like the Maske Trio, Excluszive Strings, String Cats, Bond Quartet, Violina, Electric ladies and others?  
I'd love to collaborate with any string crossover groups!
Anyway: should that be possible. A real 'electric flute' doen't exist but you could amplifie your flute sound and surely do so on many occasions.  
I wish an electric flute existed, I'd be all over that!! Sometimes I use pedals to alter the sound of the flute in performance.
How successful are you in commercial respect with your bags? As they can be ordered through internet the world lies open for you in that respect too. Are you content with the sales results.  
The bag business is only a year and a half old, and I just did my first flute convention one year ago with only one dealer.  Since then, we have 12 dealers in 4 continents and lots more styles of bags.  Of course, I'd love more flute/music shops in Europe to carry them!  
Did you have any negative reactions to divide your time and activities over so many, partly strictly commercial programs?  
I like being very busy with various projects (I even have an ice cream business in Japan!) so I don't mind dividing my time because I love everything I do!
Tell us more about your recordings, partly produced by yourself: Holiday treasures and the classical album in.flute.en.tial. Details can be found on internet, especially the Fluter Scooter site, but it would ben nice if you give a complete discography and how/where to order.  
I self-produced Holiday Treasures and played all the instruments!  in.flute.en.tial was recorded in Texas with some local musicians.  It's very relaxing, light classical music, great for meditation.  I made it mostly for non-musicians. Albums can be downloaded from Itunes or from www.fluterscooter.com.  CDs can also be ordered from my website.  
Can we expect more of these media and music initiatives? What about Indian music, raga's? 
I'd love to record a new album, not sure of the genre yet!  I actually studied Indian music (bansuri flute) as well in NYC with Steve Gorn.  I'm no master at Indian music, though…but I love playing it!
What can we see and hear of you on YouTube, Myspace and Spotify?  
There is more info about these projects  on youtube.com/fluterscootermusic and facebook.com/fluterscooter
I found fragments of Villa-Lobos Bachianas Brasileiras, La folia and the entr'acte of Bizets Carmen. Is there an item that for some reason is your favorite?  
I don't ever have a favorite piece.  My favorite piece has always been whatever I'm playing at the time!
What piece would to like specially to record if you had the possibility. What Flute concerto if you had a good orchestra at your disposal? Do you have a favorite conductor?  
The Rodrigo Concerto!  I actually played the first movement with orchestra in high school when I won a local concerto competition.
Tell a bit more about your sym- and antipathies in this repertoire segment. What is your biggest future wish on the music front?  
To be an international superstar, a pop star of the flute!  More shows, more collaborations and appearances, and more styles of flute bags!
You are very active in the social media with nearly 3500 Scooter fluter 'friends' and a lot extra on your personal site. Any idea how many good, valuable, interesting friends you really have? Can you keep up with all fan mail, questions, suggestions? Never had a bad experience here?  
I utilize my Facebook and social media mostly to connect with other flutists and musicians and I find it very helpful, especially when I promote the bags.  Many dealers and customers have been from posts they see on my Facebook page.
Are there any anecdotes or happenings that left a deep impression?  
Apart from some very personal ones none that I want to recall.