MARINA BARSKAYA: VIOLIST IN A MORE THAN DOUBLE ROLE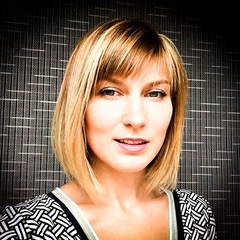 You were born in Minsk, Belarus in a musical family. Did you get your first lessons from your mother?
Only my mum is a musician. She is a violinist. Everyone in my family has a link to economy.
I have started my violin lessons with her colleague.
At what age did you enter the Belarussian State Academy of Music?
At age of 18. Then I moved to Bruxelles at age of 19.
I remember you telling me that your mother 'chased' you along all kinds of competitions. You got fed up and went to Brussels. Why did you choose Belgium?
One of my best friends in Minsk was from Bruxelles. We spoke a lot about Belgium and I think that was the reason why I have decided to try to settle there.
You made several tours in Europe and the near East. What is your best memory.
I think the best tour ever was the USA tour with the Brussels Philharmonic. Two amazing weeks including the concert in Carnegie Hall.
At the same time you were a member of the Brussels philharmonic and the Belgian National Orchestra. Only as a replacement, or as a full-time job?
I'm a full time violist in Brussels Philharmonic but I'm a freelance as well. Belgian National orchestra is one of the orchestras i was replacing

 

in.
Did you participate in any cd recordings with them?
We do a lot of recordings. This orchestra is well known for its quality. We recorded ´voices of hope´ with Camille Thomas, ´Lost Horizon' from Guillaume Connesson

 

and ´Cinema ´ with Renaud Capuçon and others.

 
Now I see you are a member of some other ladies groups: 'Beatles by Girls' and 'Wild Queens' and 'Angels in Motion'. Tell me about the colleagues and the difference of repertoire you play.
Beatles by girls is a band bringing Beatles songs with a female touch to the main Europe stages.
Wild Queens is a string quartet I have founded 11 years ago. This Quartet has specialized in bringing pop, rock and classical styles to the mainstage. We played for the most famous artists such as Josh Groban, the Trans Siberian Orchestra, Michael Buble, Evanescence, Idina Menzel, among others.
Angels in Motion is

 

the latest project . It's a huge collaboration with some really talented people. A lot of new projects are coming soon.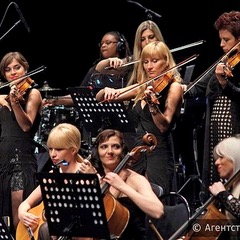 I looked at the website of 'Beatles by girls' and saw that it is a group
of nine musicians with strings, a vocalist, a keyboard, guitar, bass, and drums. Do you get many visits and reactions?
A lot. People love sharing their warm feelings after our concerts. We get a lot of support messages, fan foto's and videos etc.
How did you get together?
The idea came from

 

our manager, Dave Imby.

 
Is one the difference that the Beatles and girls play on electric string instruments and the Wild Queens on 'normal' ones?
No . It all depends on the project. We do play acoustic and electric .
Your intention must have been to be different with these groups. Do you think you succeeded?
I'm a perfectionist. I think there is always a way to make things better, but I'm sure it's a success.
How many performances do you give per months? In normal Coronafree times?
It's a really difficult question nowadays. The Artistic sector is really suffering a lot in Belgium for the moment.
Did you ever play in The Netherlands? Where?
We play quite often in Amsterdam, Rotterdam, Nijmegen etc.
Has any of you apart of Jolien Thijs (Beatles by Girls) a singing role too?
Each girl in the band is singing.
The girls of the Beatles
Did you ever get a bad press?
And the other way round: what was your biggest success?
It's my collaboration with Amine Doukali
.
Our compositions "When I close my eyes" and "Secret Feelings" describes my soul. I really want to share my music with this spirit with my audience.
Have you ever considered another instrument than the viola?
No, never. I do play piano sometimes. But only just for myself
Are you an idealist with a mission, if only to make people happy?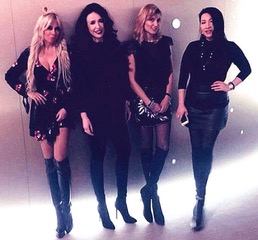 I love seeing facial expressions that reflect the real feelings. Life is beautiful and we are lucky being able to share our music with the people and share the emotions.
Where can be listened to you the best: on Spotify or on YouTube?
Everywhere: Spotify iTunes Apple music I do have my personal YouTube channel too.
Do you have time left for a private life and hobbies?
I love nature and I try to spend as much time together with my son as we can
What is the next we can expect of you?
Two new cd's are coming.
One is a collaboration with Patrick Hamilton, such an amazing pianist-composer and the second one ("Limitless") with Amine Doukali, my fiancée, who is a pianist-composer as well.
I have also recorded a solo viola piece with the Ataneres ensemble written for me by Koen de Wolf. 'Stay tuned'.
Are you worried about the Belorussian political situation and your family?
Sure I'm. All my family is living in Minsk
.
Is there any question you've always wanting to be asked, but never got? Then here is the chance to pose it and give the answer.
Just want to say that Art is essential and so are the people who create it.