MELANIE YARGER, CELLIST: DEVOTED TO THE WORLD OF ALTERNATIVE MUSIC STYLES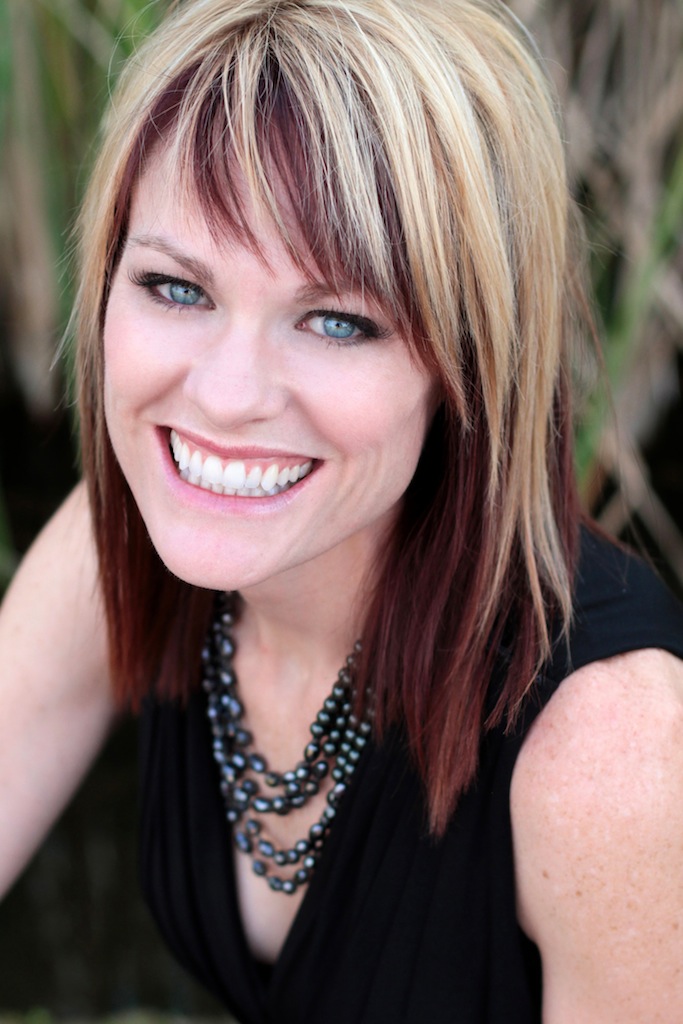 How did an Arizona girl discover the cello? Or was it the other way round: the the cello found you?
I began playing the cello in the Arizona public school system at the age of ten. I knew I wanted to play a stringed instrument, and well, violin was just simply not ever going to happen. Luckily the school I attended had a recruiting program where all the third graders got to watch a solo performance of each instrument. I knew right away that the cello was the instrument for me.
Were you born in a family of musicians?
No, quite the opposite. My father is hearing impared and my mother is a retired interpreter for the deaf.
When did you seriously start to play?
I was pretty serious from the beginning. I knew from a very early age that if I wanted to go anywhere in life, it was going to be the cello that took me there. I knew that if I wanted to go to college I would have to get a full tuition scholarship. Luckily, I loved playing and loved practicing, so it was a pleasant journey.
Ever consider another instrument? What is for you so special about the cello?
I actually started out in music with the violin. It was a short lived experiment. To put it nicely, as not to offend my violinist colleagues, it was NOT for me. Once I heard the cello, I immediately connected with it. I much prefered the register and timbre of the cello to the other bowed stringed instruments. I also knew that the lower frequencies could be easier felt by my hearing impared father. That alone made it an easy decision.
Did you have good teachers from the beginning?
I had wonderful teachers. My mom made sure that I had private instruction right away. I studied with a local school music teacher who was also an amazing and accomplished cellist. In high school I studied with Professor Takayori Atsumi and in college with Dr. Mary Beadell-DiBartolo. After college I moved to the San Francisco area to study with Irene Sharp. When in NYC I studied with Maxine Neumann and Irene Sharp.
You followed a bachelor study. Ever thought about going for your masters?
Sure, I've thought about it. I think about it often. I just can't bring myself to stop making money as a cellist so that I can go back to school. I had intended to pursue a Masters after I completed my undergraduate degree. I moved to NYC to prepare for auditions but began working right away. I couldn't work and go to school. The NYC cost of living wouldn't allow for that. So, I kept working.
Was Northern Arizona University the best option?
NAU was the best option for me at the time. My family could not afford for me to live out of state. Of the 3 in state universities, NAU had the best teacher at that time. I often wonder, as I'm sure a lot of people do, where I would be if I had made a different choice. However, I got a lot of amazing performance opportunities that students at larger colleges simply just don't get. So for me and where I was at the time, yes. NAU was the best option.
Did you also follow masterclasses elswhere?
I have had master classes with Carter Brey, Andreas Dias, Alexis Pia Gerlach Irene Sharp and Brinton Smith.
Then you started as a 'classical' cellist, playing in several orchestras in different places. What did that bring apart from getting to know more repertoire and gaining experience?
Being able to play in many different orchestras in many different places gave me invaluable knowledge. Not only of the literature, but of orchestral playing itself. There is so much more to playing in an orchestra than just playing your instrument. In all actuality, I think playing the instrument is the easy part.
On the internet circulates an Eric George film with you giving a course cello basics. Can you tell more about that?
It's so funny that those videos have gotten so many hits. Ok, here's the long version: I used to be the Strings Specialist for Milano Music here in Arizona. While there, I was approached by Eric to do a series of tutorials for Expert Village on the basics of cello playing. There was no script, no rehearsal, no multiple takes of anything. He just pretty much shot me teaching a lesson to a video camera. Little did I know that those vidoes would pull in almost 300,000 hits altogether.
What made you go 'electric' around 2008? Was it your own wish or were you invited by others to join? Was your ensemble original and new or did you simply start filling in? In other words: who were the grounders?
I was friends with Carrie Caruso and played around town with her quite a bit. Before Urban Electra (formerly Urban Quartet) she had an acoustic violin/cello duo called Muse with another cellist. She called me to sub for the cellist in that group. We knew that we wanted to play together, and loved the idea of a string quartet whose texture is much more full than that of a duo. Carrie got called to do a wedding and the bride and groom requested all popular music. We got standing ovations for her arrangements of Stairway To Heaven and Bohemian Rhapsody. When people are jumping to their feet and fist pumping during prelude music at a wedding, you pretty much know you're on to something. And Urban Quartet was born. Carrie, VerRona and I are the original members. We started out as an acoustic quartet. We soon got really frustrated with the logistics of amplifying acoustic instruments which forced us to begin playing on electric instruments. Then we discovered the world of effects pedals, then wireless instruments, then in-ear monitors, then personal sound technicians. It just snowballed, and here we are.
Did you know each other before?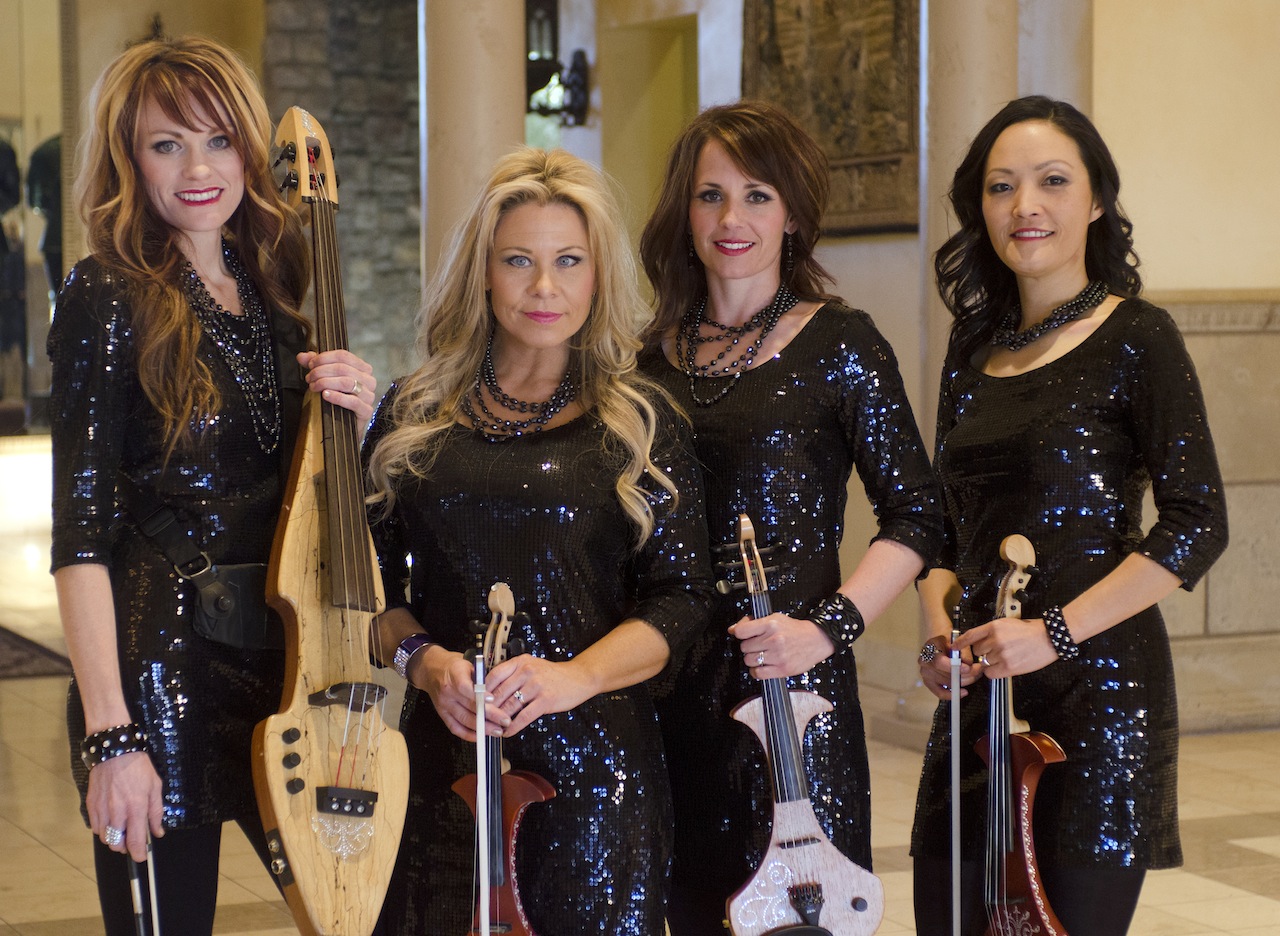 We all knew each other from performing around town. But it goes deeper than that. Carrie and VerRona went to ASU at the same time. Iku and I met through her husband, a trumpeter. She and I had played some piano trio recitals and various other gigs around town together. When there was an opening in Urban Electra, she was a perfect fit. VerRona and I have known each other since 5th grade. We pretty much have grown up together.
Your repertoire goes from classic rock via pop to club music. No classical music at all from de serious hitlists?
We have thought about doing some classical crossover. But there are so many other groups out there that have the classical crossover thing covered. We want to stick to our own thing, our own style. We have played classical music on concerts and have even performed the world premier of "Stiff" written for us by Butler University's Micheal Schelle. Overall, Stiff excepted, the popular music is where our passion lies.
Who makes the arrangements? Only Carrie Caruso?
Carrie is the arranger. However, we are composing original music as a collaborative effort for our new CD due to be released in the fall.
Was it better for your image to change the name of Urban Quartet to Urban Electra?
We believe that it was a good move. We were getting asked to play as trio, duo, quintet, with DJ, with drums, with piano, with saxophone…. Urban Quartet just wasn't the name that fits us anymore.
You seem bound to perform for corporate clients and events. Any chance to be heard on pop concerts or festivals?
We have played quite a few public performances locally. We would love to play in the national circuit of tours and festivals. The right opportunity just hasn't presented itself yet.
About how many concerts per year are you giving?
Last year we played roughly 100 shows.
What makes playing in this group with its typical pop image so attractive? The music arrangements you play, the big audiences or the easy money?
Well first, this money does not come easily. The performing and rehearsing is much more physical than any classical performances I've ever done. And I have two full Wagner Ring Cylces under my belt. That being said, I have always had a rocker streak. I have always felt pop music just as deaply as classical. It resonates in me and gets my heart pumping. I find that this type of performing is much more personal for me. In a symphony you're 1 in 100. I love performing in a much more intimate group in a much more intense way. Also, our audiences are much larger than most classical audiences. Because of this, I also find that we connect with people on a different level. The layman is typically intimidated by classical music. It's seen as "elitist" or "conservative". When I'm playing music that the masses can identify with, it's so rewarding. I love the lights, I love the energy, I love the looks on people's faces when they're being blown away by something they've never seen before.
Do you realise that most of these 'electric' groups are 'manned' by girls? Do you have an explanation for that phenomena?
I believe it's because the owner of a business has to insure that his/her business is being run properly. These electric strings groups are typically all female groups. So the owner is also female. It's very difficult for anyone to relinquish power and control of their business to someone else, male or female.
Might that be because they look sexier? Or perhaps even because they are better than men?
It's definitely not because women are better than men or men better than women. It's not a superiority thing. Let's face it, image is everything. There is a reason that these all girl groups are popping up all over the globe. It's what people want right now. Image is everything. But Il Divo, One Republic, The Three Tenors… have all done quite well for themselves as music groups of good looking men.
Who decides about existing and new repertoire. Are the four of you in this respect very united, of the same opinion. Does everybody bring new suggestions? How democratic are you operating? Or is there a manager as the only one to make decisions?
Well, luckily for us, we are all really good friends and work very democratically. Carrie mantains herself as the owner. However, we all work very hard together in the decision making process. We try to choose songs that we love and that are chart toppers.
Up to now, Urban Electra's personnel is rather constant. Are there reserve players for each of you?
We have used subs in the past. The subs we've worked with have been top notch. We prefer not to use subs unless we absolutely have to though. We pride ourselves on the fact that we are tight and well rehearsed. It's very important to us to have that solidarity in our group. Not all groups like us have that same expectation of themslevles.
How extensive is your repertoire? Are you constantly changing it up according to developing tastes, for instance new numbers added?
We have an insane amount of music. Carrie is a bit of a work horse. She is constantly arranging. Our set lists do change. Every season we add and subtract. We replace songs that are dropping off the charts with the newest hits.
Do you need much time in rehearsing, or is a simple sound check enough?
Rehearsing and soundchecking are two different things. We rehearse just like a classical quartet. We work on intonation, tightness in rhythm, working on how our parts fit together… we rehearse as much as we possibly can. Soundcheck is used only for making sure that we all have exactly what we need to perform a great show: The proper mix in our ears, the proper mix in the house, get a feel for the size and shape of the stage/room…
How good are you at improvising?
Personally I am an OK improviser. Just like anything, I could always be better. I have learned a lot by playing with Carrie. I've also forced myself to take gigs that require improvising so that I can insure that I get performance opportunities to improvise. It's a work in progress.
How about sound amplification? You surely need a sound technician to assist you. Is he (or she) a (quasi) member of the group.
Our sound technician is Jim May of Jim May Productions. He is a God send. He brought us to a whole different level. Prior to Jim, I was the one running the sound. I don't know how I got deligated to be "the soundguy", but I did. I knew nothing of sound. If I recall correctly, my first experience with setting up our soundsystem was with a sketch of lines and circles written out on a napkin depicting which "wires" went into which "holes". Looking back on it, it's amazing we're where we are and I didn't blow us all up. But now we play with the highest quality equipment with the highest quality sound technician to run the show.
Do the programs differenciate according to the occasion. For instance, the kind of audience (youngsters, older people) you play for?
Absolutely. We change our sets to accomodate the audience. We play from memory and we have about 7 hours of music, so it can get a little crazy. But it is very important to play to the audience in every respect.
What can you tell about the instruments you play? Are they Yamaha's or an American brand?
Carrie, Iku and I play Zeta's. VerRona plays a Fourness. All four were made locally. I am actually working with Evan Fourness to develop a line of electric cellos.
Being young it must be very attractive and logical to play in these two worlds. But what about a career when you get old(er)? A 60-year old cellist jumping around doesn't seem a nice prospect.
Depends on the audience don't you think? Seriously though, All four of us went into this knowing that the clock was ticking. We all have maintained our classical chops and continue to play classically.
Are you considering an eventual return to the classical podium?
I never left it.
Urban Electra is very present on the internet with it's own website, active in the social media and on a small scale on YouTube or Spotify. Do you receive many reactions on those exposures?
We do. In fact, we recently completely changed the format of our website. Just since that change, our bookings and inquiries have increased dramatically.
Do you get a lot of fanmail? How useful is you presence on FaceBook in this respect?
We get some fan mail. We always appreciate coresponence from our fans. Facebook is more of Carrie's area of expertise. I would say that our use of facebook is more to stay connected with our fans in letting them know what we're up to.
Do you have any hobbies (sports for example, or simply reading) or fullfills your music making, having made playing cello the sole hobby, your life entirely?
My hobby for the last three years has been to raise a smart, responsible, talented, loving little human being. She and my husband are my life, entirely.