TAMARA TASHA SAVICH: IDEALISTIC CELLIST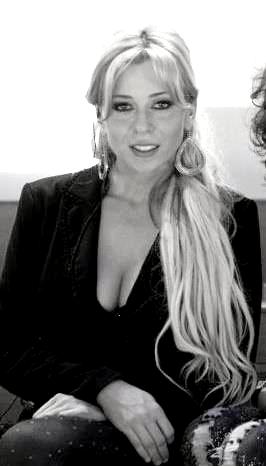 You were born in Belgrado, did you grow up there in a musical family or a family of musicians?
I grew up in non-musical family. My mother is archeologist and my father is a lawyer. Since the early age, i was very musical and loved being in the center of attention. So my mom took me to music school, recognizing that my energy needed to be used for something creative. 
When did you start your first music lessons?
I started to play cello at the of age of 6, so very early. 
Was that your own wish, or that of your parents? 
It was my own wish, since my parents were not musicians, it was natural that it all came from my initiative. 
Did you immediately go for the cello? 
First I was given to play the violin, but I didn't like it at all. I remember that after few lessons, I was crying to play cello. I liked the sound of that instrument a lot better and also as kid, I was already thinking: there are so many pianists and violinists in the world, why to be like everybody else? 
What professional study did you follow?
I went to the Harid Conservatory in Boca Raton in Florida.
What made you decide to go for popular music? Ambition? Talent? Fast and easy money?
My way of going to popular music and show biz was just the matter of one lucky day and moment. I was already at that period solo cellist of Charlemagne Orchestra for Europe (based in Brussels) and I never thought about going into something so different. But then the manager of The Exclusive Strings contacted me one day, searching for a good looking cello girl with classical music education. The group then was already very known and they had around 120 shows per year. I said yes, knowing that it's something I will do with pleasure. Combining music, fashion, different audiences around the globe.
Did you ever play classical music professionally or are you intending to? 
All my life I am dedicated to classical music. As a child till the age of 16, I won 15 first prices on different international competitions. I played as a soloist with Symphony orchestra several times, such as the Belgrade Radio Symphony Orchestra, the National Opera Orchestra of Belgrade, the Vienna Women Chamber Orchestra and others. 
Are you a good improvisator?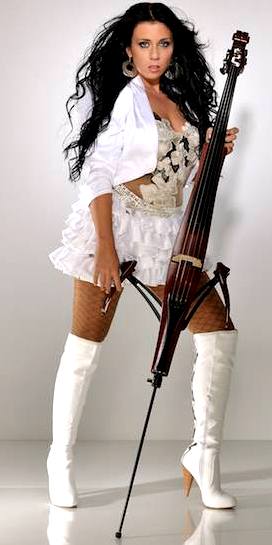 Not at all...I can say that I can't improvise almost nothing. Improvisation is a special talent that has nothing to do with education, practice...The best example for that are the world's best known Roma (Gipsy) musicians. They can't for example reed any score or notes, but they can improvise on anything you want. And good jazz musicians too.
How, why and when did you land in Belgium with The exclusive Strings? Where you one of the founding members? When was this?
I came to Belgium in 2007 because my boyfriend  lived in Brussels. And I am in The Exclusive Strings already 7 years now. 
What kind of repertoire do you play? Folk music, pop songs, international hits, jazz numbers, covers or...? 
We play electric, pop classical music. All in very modern and progressive arrangements. That's the key of our success, because we bring classical pieces in very popular style.
Do you have a favorite genre? 
I can only say that I like good quality music as a general criterion. No genre is my favorite. Maybe I can point out more in detail, that world ethno music as my preferred genre. 
You're giving shows all over Europe. Is there a special one you can mention? 
We don't only do shows all over Europe, but over the whole world. In Asia, the Emirates, Morocco. They are always all very special for us. 
Who makes the arrangements? 
The arrangements are made by the team that out manager always chooses. Sometimes some talented young people from Holland, sometimes it's the manager himself (since he is a musician also). 
Does he (or she) have a good nose for what the public wants and are you adapting the program for the kind of audience you're going to play for? 
Yes, absolutely, we always adapt what we are going to perform regarding the event. We play more up-beat and electric sound if we are performing during "The footballer of the year " for example.
How many numbers are on your repertoire? 
Our standard show is 30 minutes. Which means that we usually play 6 songs. But we're refreshing the repertoire regularly.
Mention some of your most memorable and successful shows and numbers. 
When we won "Beat the best" TV contest on RTL Holland, then being the finalists of Euro Song Belgium 2014, furthermore our shows in Dubai, Doha, Casablanca... 
How many performances are you giving per month/year? 
Usually around 100 per year
How long do you expect to remain a kind of pop artist? 
As long as I feel the same adrenaline going on stage and feeling the same joy as I feel now. 
Do you play only a 'silent' (electric) cello with The Exclusive Strings? Is it a Yamaha that gives you full freedom of volume and color? Are there other advantages? 
With The Exclusive Strings we are sponsored by Yamaha. I love playing on Yamaha electric cello, so far, it's the best instrument on the market. Also I like it very much visually.
Who manages and mixes as a sound technician? 
We have a great technician, he is always on all the shows with us. He does a great job. he is from Holland and his name is Kevin van Lieshout. 
Are you often on the radio and the TV? 
Yes, we did so many tv shows, for Belgian tv, RTL Holland, RTL Germany and others. 
There are videoclips on the own website of the ensemble, but is there a chance you are going to make a CD or DVD? 
We are planning a lot of new stuff and it is going to be big surprise. So be patient…..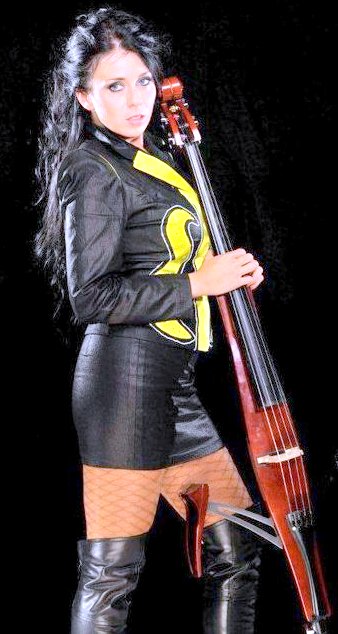 Who is responsible for your outfits? Do you have the last choice? 
All our costumes are made exclusive for us by the well-known Belgian fashion designer Nicky Vankets.
And then there's the Almazian Pops Symphony of which you are an important member. Tell a bit more about it. It's stationed in Paris and one would like to learn more about repertoire, tours etc., so give some detailed info. 
Almazians Pop Symphony is the orchestra of 20 amazing girl string players and world known violinist Khachatur Almazian. I am also the co-director and co-founder of the orchestra. In 2013 we released our first cd for Sony France. Since then we have been touring in France, Montenegro, Russia, Armenia and Serbia. Also we are preparing now a new single. We did a lot of music for the movies, soundtracks, among the latest is "On the milky road" with Monica Belluci and directed by Emir Kusturica (it was a 2 x golden palm winner at the Cannes Film Festival). 
What ideals do you have in life and music? 
My ideal is to get to the point in both life and music, to earn a total freedom. That you are able to wake up one day, and have absolute freedom of what to do in life. Not chasing the pure materialistic things, while life is passing by and then realizing that you didn't have the time to consume it. 
Is there, to finish this interview a question you have always wanted to be asked but never got? Then here it is to pose and answer it. 
Not spontaneously….. Come back at a later stage…..