ANDREEA RUNCEANU: ENSEMBLE PLAYER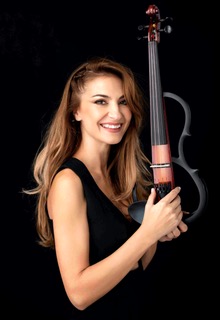 Were you born in Bucharest in a family of musicians?
I was lucky to be born in a family of musicians from Buzau, some of them by profession, and others extremely passionate and talented, but not professional musicians. My first contact with music was via my grandparents, in an authentic Romanian village on the Buzau River valley, where everything seemed to sing around me: in the morning the nightingale woke me up, and during the day I listened, fascinated by the blackbird's song, whose trills I tried to reproduce by whistling during the long hours we spent guarding the grazing sheep.
My grandmother had a beautiful voice. I learned a lot of songs from her, some from the interwar period, from her youth, others from the folklore of the Buzau area.
My parents definitely loved music. My cousin, Mihaela Runceanu, was one of the most loved Romanian singers, my mother was a violinist, now a violin teacher, and my father, although he teaches French, knows how to play both the violin and the guitar. He played over 25 years with Lira, a choir from Buzau, with which he also toured abroad.
We always listened to classical music at home. It all came naturally – even if we were children, we did not feel that it was "heavy music", as people say, but we felt very happy and pure.
My whole childhood had music in the background. Somehow, I always knew that this would be my path. And I can't imagine how my life would've looked like, if I didn't dedicate my life to music.

When did you decide to go to the National University of music?


Because my mother is a violinist and I admire her enormously, from a very young age I wanted to be a violinist like her. It is difficult to maintain pace when studying music and every age has its obstacles. When you are a child you hear your friends playing in front of your house when you still have two hours of practice to do. As a teenager you may long to go for a walk with your girlfriends, but you know that you haven't finished your scales. As you grow older, you start having questions: am I good at this, will I find my way, will I manage to achieve a high level career among so many talented young musicians?
At the age of 12 I left my home and moved to Bucharest. I started studying at the George Enesco Music High School, because here were the best instrumentalists in the country. It was just after the fall of communism and Romanian society was adrift. There were many ups and downs, many moments when my morale fell, when I either didn't have enough money to eat, or I missed my family and was tired of taking care of myself. But every time I fell, I picked myself up and seemed to continue on my way with more force.
I wanted to get to play on the big stages of the world. And at that age it seemed perfectly possible. It was a period in which I focused on the theoretical part. I won the First Prize in the country at the Music Theory Olympics twice. But then I returned to my great love, the violin. And I did well.
I was admitted to the Academy of Music in Bucharest, where I was fascinated by chamber music from the first year.
Ever considered another instrument than the violin?


I studied piano and violin. I really enjoyed piano and practiced for hours, but it was difficult for me to study both instruments in depth. So, I settled for violin. I never totally gave up piano. I still play at home sometimes, on my digital piano. But the most beautiful moments are when I play with my boys.
You started as a classical musician for how long?


I could say that I started my career as a classical music musician at the age of 7. That's when I learned the first contemporary classical music song, composed by Dan Buciu.
I will always link my career as a musician to Amadeus. And I will say that it is a career in the classical crossover genre.
I suppose there you met the other violinist Bianca Gavrilescu, cellist Patricia Cimpoiasu and pianist Laura Lazarescu. When and why did you decide to form the ensemble Amadeus? Was that in 2000?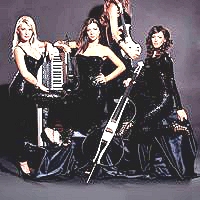 One day in November 2000, my brother Xenti, who was a very well known singer at that time, told me that the composer and producer Adrian Ordean asked him if he knew any good instrumentalists, who were studying at the Conservatory for an instrumental project. I was quite reluctant, because it was hard for me to imagine what the project was about. I had never seen anything similar.
Ordean came up with the idea to create a quartet that would play a fusion of classical music and pop-dance rhythms. There was a casting, I got selected and started on this path with my first bandmates - Alexandra, Cristina and Grațiela.
It was very difficult for us, but also beautiful at the same time. We were building something new, there was no model, no reference. I was very attracted to the music that Ordean composed, but also to the idea that has remained to this day the mission of Amadeus - getting classical music in front of young audiences.
In the meantime, there have been many changes, both in terms of musical approach, but also members and management. If you think about it, it's only natural in a project that has been around for 19 years.
We released five record albums with a major label in Romania. Since 2010 we've decided to make our own way and became an independent artist. We took over all the online platforms where we could meet our fans, shared them our music and grew fanbases organically in Europe, the U.S., Asia, and Latin America. Right now, we pride ourselves with our YouTube channel, which has over 450K subscribers and almost 130 M views.
One of your intentions was to be different than your colleagues. Don't you think you succeeded, knowing how many other ensembles like yours are active?
We are a niche project, but that gives us an extraordinarily beautiful freedom. We chose to perform our feelings musically. We constantly refused to be inspired by what is fashionable and that won us the hearts of our audience. In our evolution, we have changed practically everything, from music to outfits. And it is a natural change. We have grown as women, as people, as artists. The public must see us as we are.
There is no better indicator for us than our YouTube or Spotify audience. We know immediately whether or not a song of ours is loved. No promotion, no marketing. Just music. Pure music.
Last year, when we decided to add an Artist Manager to our team, we ended 9 years of being a DIY (do it yourself) artist. This means that we (Patricia and I) took care of the band's management, strategy, partnerships. We invested in costumes, videos, new songs. We managed our whole team and took care of the business side of things. It wasn't easy, but it helped us maintain the goals we wanted to achieve without sacrificing authenticity.
You're were also idealists, wanting to bring the youth to classical music and to learn playing an instrument. Is that still an ideal after all those years?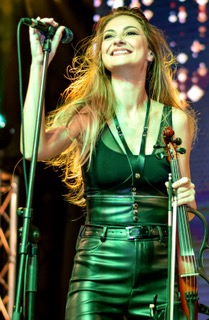 Each of us started playing a musical instrument before we could read. It all started as a game and the violin, the cello, and the piano quickly became portals that transcend - usually in surprising ways - time, space, age, mood.
Music is magic. And, when it touches you, you become addicted to its freedom and sheer joy. We maintained our goal from the beginning, I think that now our stronger to encourage as many people as possible to learn to play an instrument is even stronger.
This quarantine period, in which we were confined to our homes for such a long time, I think brought us even closer to the simple joys of life. And music was always the best of them all.
You claim that you belong to be the first quartets playing on electric instruments along with the English Bond quartet. Why are you so sure?
At that time, our source of inspiration was Vanessa Mae. Her project was a beautiful and unique combination of virtuosity, beauty, and spectacle. Our plan was inspired by the idea of electric instruments but aimed to do something different - to compose original pieces in the classical crossover. style.
One day, we were in the audio studio, recording for our debut album. Suddenly Ordean called us to his office. The girls from Bond were on TV, giving a small concert at the Miss World show. They were incredibly good. It wasn't comfortable for us to realize then we were not unique. We are from Eastern Europe, not England. And we immediately thought that everyone would say that Bond was our inspiration.
We scoured the internet for other electric quartets that were founded before 2000. There weren't any.
At first you decided to play classical crossover music and I know from the classical part that you have elements of Johann Strauss's An der schönen blauen Donau, Bizets Carmen, Ravels Bolero, Offenbachs CanCan, Orffs Carmina Burana, a waltz of Shostakovich, Winter from Vivaldi's 4 Seasons and Piazzolla's Libertango on your repertoire. Who makes the arrangements?
Classical music is our first love and will forever remain so. Xenti Runceanu, my brother, takes care of our arrangements. He adapted famous themes to our style and the public loved them. They were rooted in classical music. And in most of the re-worked pop songs we quoted well-known classical themes. For example for Perfect (Ed Sheeran) we introduced Pachelbel Canon in D, for Rock me Amadeus (Falco) several themes from Mozart's music, for Next to Me (Image Dragons) Ave Maria - Bach / Gounod, Peer Gynt ' Suite No. 1, Op. 46 - 'Morning - Edvard Grieg, Piano Concerto in A minor, Op 16 - Edvard Grieg.
Classical music is not only immortal, but it seems to increase in value over the years. If you turn on the radio you and you listen to actual pop music, you'll find that it is done on three chords.
Are you also inspired by the rich Romanian folk music tradition and repertoire? Or are you mainly playing original pieces and covers?
You are right, traditional Romanian music is very rich. And it best expresses the Romanian soul, oscillating between joy and deep melancholy. It inspires us strongly, all our albums have songs with traditional Romanian influences. There will be two songs with a Romanian touch on the album we will release this fall. One will be a duet with a popular bagpiper, which we recorded somewhere in the mountains.
The other is our version of two very old and famous Romanian songs blended together in a very original manner. They both go way back in Romanian history. Skylark is one of the most beloved traditional violin songs and expresses feelings of loneliness and love for nature during a Romanian summer day. The other song is actually a curse. You will hear the voice of Maria Tanase, one of the greatest female Romanian singers of all time, recorded almost 100 years ago, cursing the lover who chooses to walk away, even though they're still in love.
You're also singers or is vocalists a better description because it's not the main core of your performances. Who writes the texts?
Yes, we are also vocalists. It is natural that we like to sing a lot and we trained our voices over the years. Laura is the most versatile of us and when we have the opportunity, usually at private or corporate parties, we sing with pleasure. We usually sing cover songs, even if the main act is instrumental.
We have some original vocal songs, written by Xenti Runceanu both music and lyrics.
For us it was always important to be honest as an artist and to keep in our souls the initial joy that determined us to choose this path in music. That's why we behave naturally on stage. And that's why we always perform songs that we love. And when we feel like singing, we sing.
One can look and listen to you via YouTube and claimed over 120 million hits. How many is that now?
I checked out and it seems to be 128 million hits now. It's overwhelming for us that people around the world enjoy our videos and that everything we've done since 2010 we've done as an independent artist.
All we had to do was play our instruments, compose new music, rearrange well known songs the way we felt them, film them and, without any promotion or support, people appreciated them.
You also made the albums Continental, Meridian, Freedom, 24
de ore and The Island. What's on them? Were they a commercial success?
The five albums contain original songs, very catchy. The first two albums were very successful in Romania. I remember that in 2002 I wanted to buy a tape in the first afternoon after its release from the biggest music store in Bucharest and they were all sold out. It was a memorable moment. I was a student and I felt then that we would conquer the world.
My favorite album is The Island. It was on the musical direction that suits us best - with the sound of 2007. The other albums I would say are like in the dance genre with influences from classical music. We don't perform songs from these albums in our concerts anymore.
You are playing on Yamaha instruments and sponsored by that Japanese firm. Are they the best in your opinion and why is that?
I've played four electric violins so far. What I was always looking for was for the violin to have the sound as close as possible to the sound of the acoustic violin and to be able to play with shades, intensities, and sound colors.
The last Yamaha violin, SV250, is the first one I feel is what I've searched for, with a big difference from all the violin sounds I've ever played before - Bridge Aquila, NS Design. It has a very clear sound, it's as light as an acoustic violin - because the preamplifier isn't integrated into the violin's body, which helps a lot. And I forget I have an electric violin in my hand.
We feel that our partners from Yamaha are our family and we are glad that they are very involved in the community of instrument lovers in Romania. We are preparing some projects together for children, postponed for 2021.
You made tours to all continents with the exception of Australia. Was there any difference what regards success? Where were you applauded the loudest?
I traveled a lot with Amadeus and performed from festivals to anniversaries of country presidents. It's hard for me to say where I was most applauded. Each country has a unique style of relating to musicians: for example, the Germans, the Spaniards are very warm. In Eastern Europe the crowds express themselves less. In Asia people were very impressed because they love music and respect musicians.
You never seem to have been in Holland. Any plans to come here too?
I love Holland. I visited some cities from your country for a tour as a part of Lyceum Strings Orchestra in 2018. I was in high-school and I remember I was impressed by the beauty of Delft. We don't have any plan right now, but we hope to perform in Holland as soon as possible.
Naturally you have your own website. Is it visited well? Do you get many reactions of fans?
Our website was very important in the days when there were no social media platforms. Then we monitored the traffic and we were interested in how many people access us and from which corners of the world. We received hundreds of emails from fans. Feedback helps us a lot. Now we keep in touch with fans and often even with the press on Instagram, YouTube and Facebook. The website is still useful in the relationship with event agents or show organizers.
But there are still fans who prefer to communicate with us by email.
Did you ever get a bad press?
We also had negative articles. One of the funniest was even before we released our first album. We were already invited everywhere to concerts and TV shows. They wrote in a magazine that we are actually models and that there are experienced musicians who actually play on the album. Just to be clear: we were preparing Paganini for our exams and our albums had simple musical lines.
Then there was another mischievous article once, when we re-enacted Romania in Dublin at the European Union enlargement event in 2004, when they called us "The Larks of the President".
Do you have time for a private life and hobbies? On a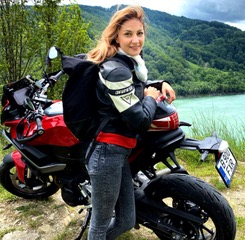 photo I saw you with a motorcycle. Are you making tours?
My family is top priority for me. I try to reconcile my private life with my career as a musician, but I can't lie that it's easy. It is clear that there are times in life when priorities change, and each takes turns in becoming more important. But the harmony of all is sacred. There was my first motorcycle tour, a surprise gift for my Birthday from my special one who knows that I love escapes in nature. I have always been a lover of books, from fiction to history or poetry. I could say that reading is my main hobby.
Is there any question you've always wanting to be asked, but never got? Then here is the chance to pose it and give the answer.
Not that I immediately know... Probably not. I'm not boiling over from them

What's next for Amadeus?
This year we'll release a new album with original music. With no false modesty, I would say this one will be the best of all. It's been a while since our last LP release, but not because we took a break from creating music. Rather, we used this time to perform a lot of music, to find our true artistic personality and the best way to express it.
Xenti Runceanu, whom I've mentioned before, is the composer and producer of this album. He unleashed his creativity and played with our instruments, making our sound lean more towards the new classical genre. It is a complex album, with cinematic songs that make your soul float in different worlds, but, at the same time, it never loses its unity.